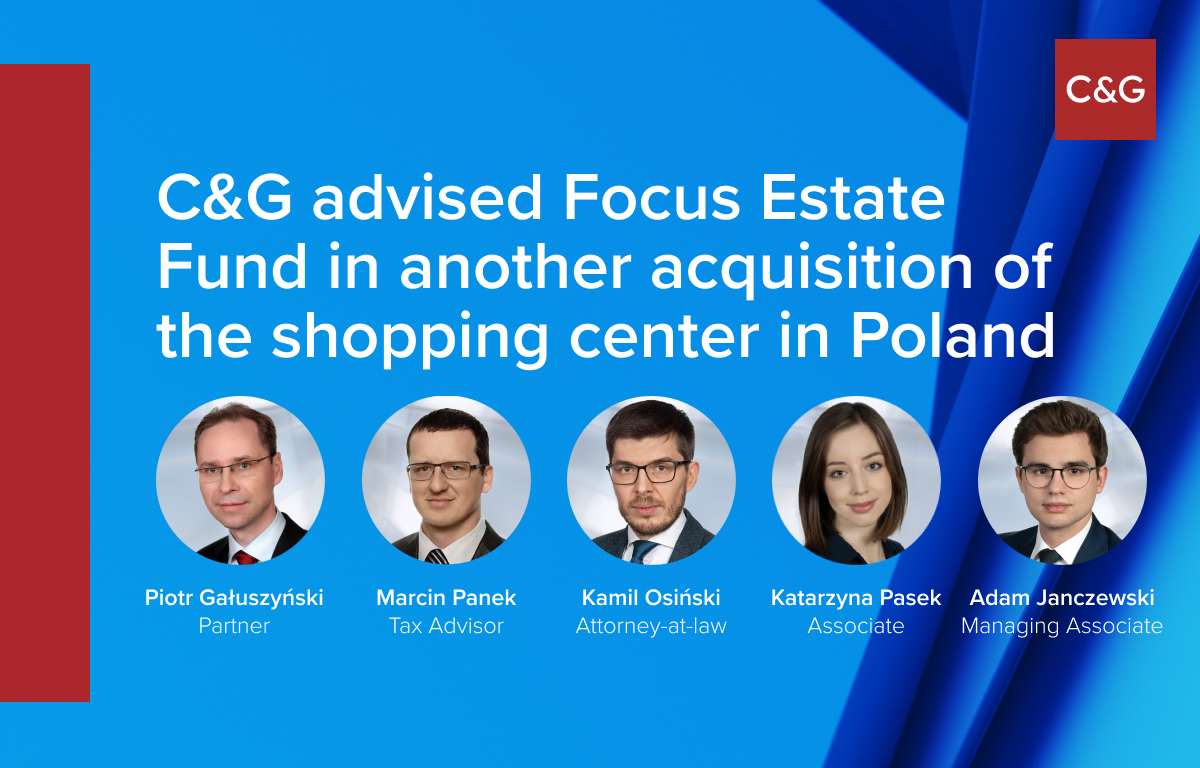 Focus Estate Fund with another acquisition of the shopping center in Poland. This time, our Client acquired a company owning Ferio shopping center located in Legnica. The transaction was ultimately finalized in mid-January 2023.

Focus Estate Fund acquired the Ferio Legnica shopping center with a total area (GLA) of 13,200 sqm. The facility located in the heart of Legnica city right next to the Old Town operates since 2007 and has over 40 tenants, including Netto, Pepco, Kik, Sinsay, Jysk, Action and Rossman.

This is Focus Estate Fund's another investment in Poland, taking place right after the successful acquisition of Atrium Mosty shopping center in December 2022. The business portfolio of our Client is expanding to the total number of six shopping centers acquired in Poland.

The Seller of the property was represented by Taylor Wessing Polska and CBRE while the Purchaser was supported by the team of Czabański & Gałuszyński's lawyers composed of Marcin Panek, Kamil Osiński, Katarzyna Pasek, Adam Janczewski lead by Piotr Galuszynski.

Thus, congratulations to the Client's Team i.e. Maxim Shkolnick and Sergiy Sushko from the Focus Estate Fund and all other entities and individuals involved in this project. Also many thanks to our colleagues, lawyers acting on behalf of the Seller Zbigniew Korba, Paweł Skura from Taylor Wessing Polska as well as Raiffeisen Bank International AG team Mikael Sundaeus and Tobias Maier.

More information is available on the Focus Estate Fund website.