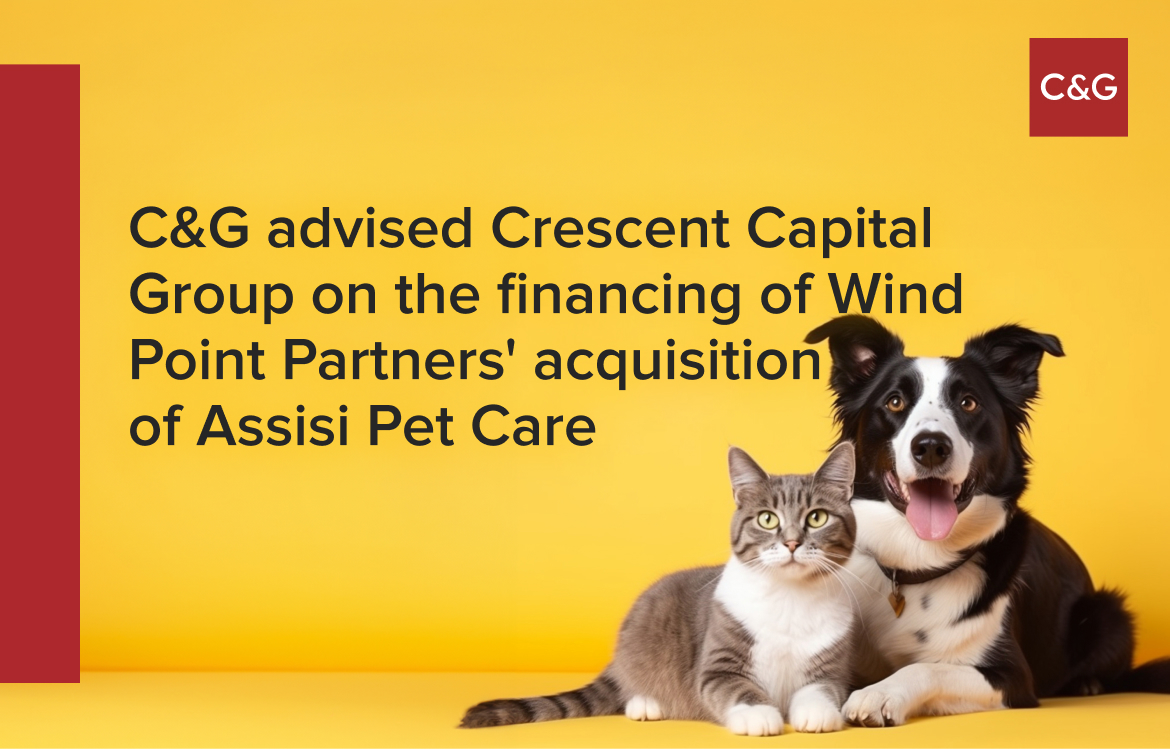 In October 2023, Wind Point Partners, a Chicago-based private equity firm, acquired Assisi Pet Care Group Limited, a leading manufacturer of high-quality dog and cat treats. Headquartered in Melton Mowbray, UK, Assisi distributes its products in the UK market and throughout Europe, with two of its production facilities located in Poland. Assisi is a key partner for leading customers across the grocery, e-commerce and pet specialty channels,
The C&G team advised Crescent Capital Group, which financed the transaction, on the Polish aspects of the financing. Our role included the release of the existing security package for the transaction subject to Polish jurisdiction, negotiation and preparation of a new package, as well as representation of the Security Agent in the transaction. Our team led by Piotr Gałuszyński included Urszula Rachwol, Katarzyna Pasek, Adam Janczewski, and Iga Karasińska. We supported the London office of Addleshaw Goddard LLP, which drafted and negotiated English law documents and coordinated work across all jurisdictions. The team on the UK side consisted of Ewen Scott, Kyle Johnson,   Katherine Meyrick and Finley Meades.
This is not the first time the C&G Team has advised Crescent Capital Group. In February 2022, the group provided financing for Assisi Pet Care's acquisition of Maced Ltd, a European manufacturer of natural dog treats.
"We appreciate being able to continue our financing partnership as Assisi Pet Care enters its next phase of growth with Wind Point Partners, and we believe the company is strongly positioned in the attractive, fast-growing natural treats and natural pet food segment," says Christine Vanden Beukel, Managing Director and Head of Crescent's European Specialty Lending Strategy.
Crescent Capital Group is a global alternative investment firm specializing in below investment grade credit markets with primary strategies that include funds that invest in leveraged loans, high-yield bonds, mezzanine debt, special situations, and distressed securities. The firm has approximately $34 billion of assets under management, and has made investments in over 190 companies since its inception, as well as expanded into the European market with operations based in London. The firm is based in Los Angeles.
Wind Point Partners is believed to have an estimated value of $6 billion (€5.69B) in assets under management, including 2 existing pet businesses. The Chicago-based PE firm owns the US company FoodScience Corporation, which manufactures and sells nutritional supplements for pets as well as humans. In addition, Wind Point Partners also owns Targeted PetCare, a manufacturer of pet litter and bedding products that are sold across the US and Canada.
Wind Point Partners was advised by London law firm Reed Smith LLP.
More information about the transaction is available on the websites of Assisi Pet Care, Wind Point Partners and Reed Smith.